All units are built from the ground up in our Queensland facility.
From moulding the shell, machining, complete assembly through to final testing, giving us the ultimate in quality control.
We are a proudly 100% quality Australian Owned award winning business.

Conair Coolers can decrease the temperature by up to 10 degrees depending on existing dry temperature & humidity.
Effective in open work spaces.
Energy & water efficient.
Filters air while it cools.
Portable & low maintenance.
Designed in Queensland for outback conditions.
Your Best Friend in Hot Weather!
Beat the heat this summer with an award winning locally manufactured Conair Cooler.

Don't delay ~ Get in touch!
Not sure what you need?
Find out more about Conair Cooler units for your business.
Just give us a call.
Conair Coolers have a multitude of uses and applications.
WORKSHOPS ~ CONSTRUCTION SITES ~ FACTORIES ~ LOADING DOCKS ~ MANUFACTURING SHOPS ~ FOUNDRIES ~ GARAGES ~ SCHOOLS ~ GAZEBOS ~ WEDDING MARQUEES ~ TENTS ~ KENNELS ~ HORSE STABLES ~ FARM NURSERIES ~  PIGGERIES ~  ~ POULTRY SHEDS ~SPORTS CARNIVALS ~ CHANGING SHEDS ~ GREENHOUSES ~ RESTAURANTS ~ HOME PATIOS ~ OUTDOOR BAR AREAS
Industrial Cooling
"We have several coolers to cool down our products, our workers also enjoy the Conairs. "
Australian Water Systems T/A Clark Tanks.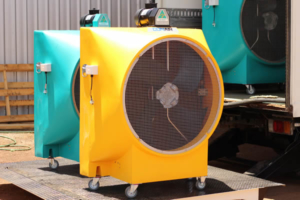 Work in Comfort
"It's a pleasure to work in summer with a Conair cooler in front of you"
Murray's Tyre Service, Dalby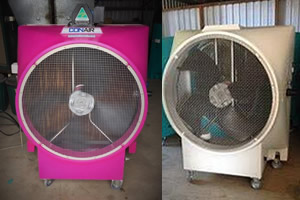 Workshop or Warehouse
"Our workers love the units in summer. The warehouse is very hot with little breeze. "
Butters Warehouse, Dalby