Conair Coolers at a Glance
Externally mounted variable speed motor
Uses 75% less energy than refrigerated units
Roto moulded food grade polyethylene housing
Efficient curved fan blades
Full vari-speed control over fan, effective in both entertainment areas or large industrial workshops

Corrosion resistence
Pumps and cooler parts are non corrosive
Cooling Media
Cross corrugated angled cellulose pads
Castor Wheels
Heavy duty castor wheels. Non-marking, easy to wheel around workshops.
More Compact
Designed to fit through a standard doorway
Custom Colours
We offer custom colours including standard, bright and colourbond colours.
See our colour chart.

Designed to Last in Australian Conditions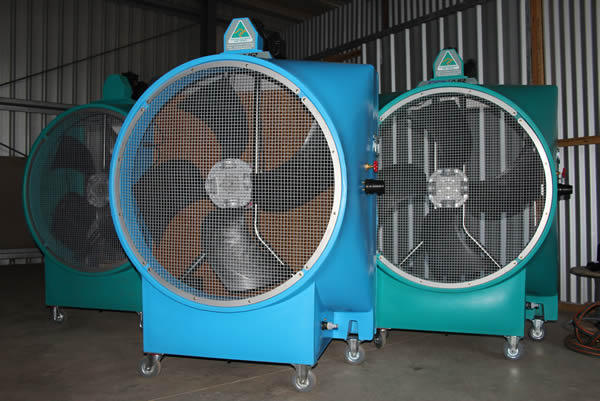 The Conair Coolers can decrease the temperature by up to 10 degrees, depending on existing dry temperature & humidity.
Conair Coolers are made from non-corrosive stainless steel, aluminium and plastic.
They will not rust and are designed to last in Australian conditions.
We've kept our design simple, no fancy remotes or complicated setup.
Just a well constructed workhorse, made to last.
We pride ourselves in after sales service. All parts are stocked on-site.
Motor: Externally mounted .75kw variable speed external mounted variable speed motor.
Air Volume: 600 cubic metres per minute
Water Reservoir: 32 litres
Pump Volume: 50 litres per minute
Pump Amperage: 5 amps high speed
Cooling Media: 250 sq metres per unit
Water Supply: Standard 1/2 inch Garden hose
Power Supply: 240 volt
Unit Dimentions: 1.7m H x 1.2m W x 0.7m deep
Unit Weight: 50kg empty of water
Warranty: 12 months
Industrial Cooling
"We have several coolers to cool down our products, our workers also enjoy the Conairs. "
Australian Water Systems T/A Clark Tanks.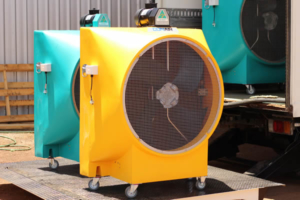 Work in Comfort
"It's a pleasure to work in summer with a Conair cooler in front of you"
Murray's Tyre Service, Dalby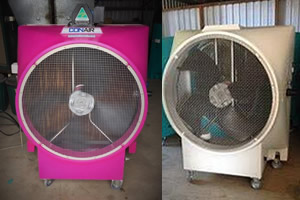 Workshop or Warehouse
"Our workers love the units in summer. The warehouse is very hot with little breeze. "
Butters Warehouse, Dalby